Let us know what you think of the cover for Guardian of Secrets (Library Jumpers, #2) by Brenda Drake which releases February 7, 2017!
This cover reveal is brought to you by Entangled TEEN & YA Interrobang!
Brenda Drake's thoughts on the cover:
I had an idea of what I wanted the cover of Guardian of Secrets to look like the entire time I was writing the story. I was delighted (I might have screamed) when the cover showed up in my email and it was EXACTLY what I'd imagined. I love that it's blue since part of the setting of the book takes place in a cold climate. I'm thrilled the couple is on it, too. They resemble the characters I've created in my mind perfectly. The cover is so beautiful, and I'm beyond excited to share it with everyone!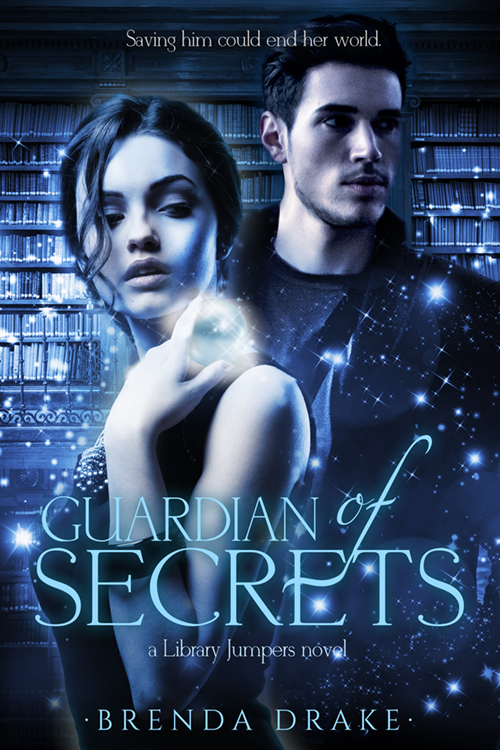 About Guardian of Secrets (Library Jumpers, #2):
Being a Sentinel isn't all fairytales and secret gardens.
Sure, jumping through books into the world's most beautiful libraries to protect humans from mystical creatures is awesome. No one knows that better than Gia Kearns, but she could do without the part where people are always trying to kill her. Oh, and the fact that Pop and her had to move away from her friends and life as she knew it.
And if that isn't enough, her boyfriend, Arik, is acting strangely. Like, maybe she should be calling him "ex," since he's so into another girl. But she doesn't have time to be mad or even jealous, because someone has to save the world from the upcoming apocalypse, and it looks like that's going to be Gia.
Maybe. If she survives.
Want to read more? Pre-order your copy of Guardian of Secrets (Library Jumpers, #2) by Brenda Drake today!