Through the Veil
The Aisling Chronicles
Book One
Colleen Halverson
Genre: Urban Fantasy
Publisher: Entangled
Date of Publication: February 22, 2016
ASIN: B01B1NC29Q
Number of pages: 400 pages
Word Count: 120K
Cover Artist: Louisa Maggio
Book Description:
Where the fairy tale ends, destiny begins. Elizabeth Tanner is no Tinkerbell, and her life is no fairy tale. Broke and drowning in student loans, the one thing she wants more than anything is a scholarship from the Trinity Foundation. But after the ancient Irish text she's studying turns out to be more than just a book, she becomes their prisoner instead. And when Trinity reveals Elizabeth is half-Fae, she finds herself at the center of a plot to save the magical races of Ireland from a brutal civil war.
As Commander of Trinity's elite warriors, Finn O'Connell isn't used to having his authority challenged. He doesn't know whether to punish or protect the infuriating young woman in his custody. When he discovers the Dark Fae want to use Elizabeth's abilities to control the source of all power in the universe, he'll risk everything to help her. At the mercy of Trinity and enslaved to the Dark Fae, Elizabeth finds herself alone on the wrong side of an Irish myth thousands of years in the making. Refusing to be a pawn in their game, Elizabeth has to fight her way back to the man she loves, but to do so, she must wage her own war against the magic that binds her.
.99 Sale 
Amazon    BN     iTunes     Kobo     Amazon UK     Amazon Canada
Excerpt:
Wiping the crumbs off his jeans, Finn reached into his backpack and threw an apple at me, which I caught with a deft hand.
"Nice catch," he said, grinning.
I flung the apple up into the air and caught it in my other hand. "I played third base. Little League."
"You mean baseball?"
I nodded.
"Never seen a game myself."
I gaped at Finn. "You mean you live in Chicago, and you've never been to a Cubs game?"
He shrugged. "Not interested." Finn's eyes lit up, and he shoved me playfully with his shoulder. "Now hurling. That's a good game."
"Well, they're totally different. That's not even a fair comparison," I said with a sniff.
"Fair enough," Finn said, wistful. "Really, nothing can compare with hurling."
I laughed. "Moiré tried to explain the rules to me once, but she lost me after hurley stick."
"Oh, it's simple, really." Finn jumped down and rummaged around the rubble until he found a large branch. He swung it, the stick cutting through the air, slowly at first, but then with more force. Finn's chest muscles rippled between the flaps of his leather jacket, and my blood pulsed in my ears at the sight of him, dancing from foot to foot as he practiced his swing.
"Now the point of hurling," Finn began, "is to use this stick, the hurley stick." He raised the old branch in the air. "To get a little ball called a sliotar either over or under your opponent's goalpost." Finn picked up a handful of small rocks and, using his "hurley," sent a pebble whizzing over the stone wall, inches from my head.
"Hey, watch it!"
Finn smiled up at me. "You with me so far?"
I nodded.
"Now," Finn said. "If the ball flies under the goalpost into the net, it's worth three points." Finn sent another pebble skittering against the wall, right next to my boot. "But you have to get it past the keeper, and that can be a challenge." His eyes glittered at me as he swung his stick again. He threw a rock up in the air and with a loud thwack sent it zooming over the wall. I held out my hand and caught the stone, the look on Finn's face making up for the sting of impact.
"And he's out!" I cried, jumping off the wall and doing a mock victory dance. "Cubs win!  Cubs win! Wooooooooooooo!"
Finn stalked over to me and grabbed my fist. "Will you settle down!" he said, attempting to pry the pebble from my grip. "I'm trying to teach you a three-thousand-year-old art form and you're nattering on about the fecking Cubs."
I giggled, snatching his hurley stick from his hands.
"Technical foul!" Finn barked behind me, but I sprinted away, swinging the hurley over my head as I climbed the wall.
"Get back here, you brat!" Finn bolted after me so quickly, he lost his footing on the stone wall and tumbled to the ground.  I laughed as he came to his feet, his hair loose, chasing me.
"It's the bottom of the ninth, bases are loaded!"
Finn made a snatch for the stick, but I feigned to the right.
"Tanner's up to bat." I climbed a set of old stairs to nowhere and tossed up the stone. I popped out my hips and, following through on the turn, sent the stone flying over the hill and down the cliffs below. I jumped down, swinging my baseball/hurley bat. "Homerun by Tanner! And the Cubs win the pennant!"
Finn smacked into me, and I collapsed to the ground, his wide body over mine as he grasped for the stick.
"Dammit, O'Connell!" I gasped beneath Finn, his whole weight crushing my chest.  "Now I know for a fact hurling is not a contact sport!" I laughed as I squirmed to get away, holding out the stick just beyond his reach.
"Neither is baseball!"
With a devilish grin, Finn tickled my armpit, and I curled up in a fit of giggles. He made a grab for my wrist, pinning me to the ground, and his gray eyes danced as he looked down at me. My laughter faded, and running my other hand through his hair, I pulled his face to mine. He kissed me, a low moan rumbling deep in his throat.
Finn nipped my bottom lip with his teeth, and my back arched as our hips melded together, my better judgment forgotten. He slid his arm beneath my shoulders and pulled me close against him, kissing me long and hard, and I gasped, gulping for air as he lowered his mouth to my neck.
About the Author: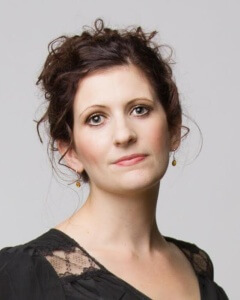 As a child, Colleen Halverson used to play in the woods imagining worlds and telling stories to herself. Growing up on military bases, she found solace in her local library and later decided to make a living sharing the wonders of literature to poor, unsuspecting college freshmen. After backpacking through Ireland and singing in a traditional Irish music band, she earned a PhD in English with a specialization in Irish literature. When she's not making up stories or teaching, she can be found hiking the rolling hills of the Driftless area of Wisconsin with her husband and two children. THROUGH THE VEIL is her debut novel.
Twitter: https://twitter.com/cbhalverson
Facebook: https://www.facebook.com/cbhalverson/
Instagram: https://www.instagram.com/colleen_halverson/
Goodreads: https://www.goodreads.com/author/show/14777224.Colleen_Halverson